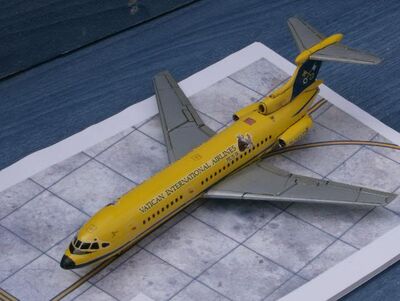 Vatican International Airways

Edit
Vatican International Airways was startrd by a decree ( urbi et orbi april 9th 1979 ) by the then current Pope, His Holiness John Paul II, whom was concerned at the price that some pilgrims to Rome had to pay, especially form South America and Africa.
It was decided that wherever possible at least one flight a week would fly from each of the 50 selected cities to Rome and if possible more would fly if the routes made this feasable.

A massive success with the faithful as soon as it opened VIA was soon to expand and run services from some countries every day, with the airline not interested in making a profit as it had the might of the Catholic church behind it it was able to offer cut price tickets to the pilgrims and was the airline of choice for a trip to the Vatican city.
Based at Rome , as the vatican had no airport, the airline operated a diverse fleet of 2nd hand aircraft and new builds including 747s, 737s, Bac 111, Airbuses of various markes and on UK routes Tridents.
In 1989 the airline started to operate a cargo service, mainly flying much needed international relief to disaster and famine sites and it was this service that continued after the 91 diaster, giving a helping hand to those devatated parts of the world.