Operation Paraquet
was the
New Commonwealth
Combined Military Command's codename for the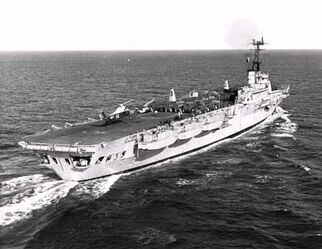 operation to retake the island of South Georgia following annexation by Argentine forces in the Falklands War.
Assets Committed By New Commonwealth Forces
Edit
The operation was ordered to commence by Admiral Fieldhouse on 12 April 1982 with the helicopter carrier HMAS Sydney acting as flagship.
Because of the distance from the Argentine mainland the air threat was deemed insufficient to deploy a conventional carrier with air cover being provided by surface-to-air missiles aboard the warships.
Aircraft carrier HMAS Sydney (operation flagship)
Type-42 destroyer HMAS Darwin
Type-22 frigate HMCS Regina
Type-22 frigate HMS Brilliant
Type-12 frigate HMS Plymouth
Churchill-class nuclear submarine HMS Conqueror
Ground Forces
Edit
2 (Australian) SBS aboard HMAS Darwin
The Operation
Edit
Early Disaster
Edit
The operation was originally supposed to involve both
SAS
and
SBS
forces being infiltrated onto South Georgia by helicopters from the
Sydney
and
Darwin
, but the plan had to be changed when the two
Wessex helicopters
transporting the SAS troops to an ambitious location on the northeast coast crashed in bad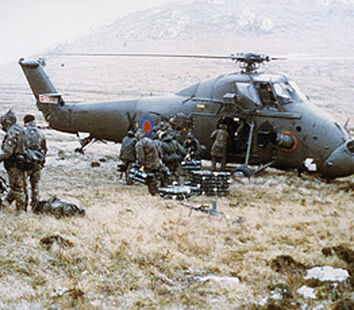 weather on
Fortuna Glacier
; the troops and aircrew were rescued by another of
Sydney's
Wessex helicopters.
Argentine Reinforcements
Edit
On 9 April the submarine ARA Santa Fe left port in Argentina with a detachment of marines on board to reinforce the South Georgia garrison, and arrived safely in Grytviken on 24 April. However, on 25 April the Santa Fe was intercepted while sailing away and sunk by a Wessex from Sydney flown by Flt. Lt. Ian Pursey.
The Assault
Edit
There followed an immediate assault by an improvised group of New Commonwealth Special Forces and Royal Marines, with HMS Plymouth and HMAS Darwin conducting a naval bombardment demonstration on the low hills opposite Grytviken. The Argentine garrison at Grytviken soon surrendered to M Company, 42 Commando, Royal Marines, after fifteen minutes of combat at 17.15 GMT, although the garrison at Leith Harbour did not surrender until the following day.
Recapture
Edit
One of the most famous messages of the entire conflict was made by the Task Group Commander, Captain Brian Young, after the surrender at Grytviken:[7]
Be pleased to inform Her Majesty that the White Ensign flies alongside the Union Jack in South Georgia. God save the Queen.[8]
Community content is available under
CC-BY-SA
unless otherwise noted.