De Havilland Canada "Swashbuckler" F2 + SR1

Edit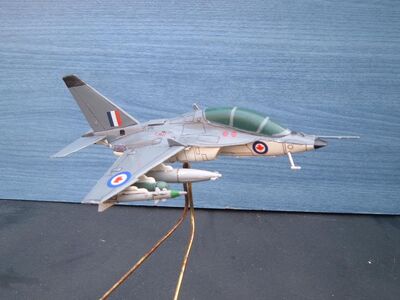 The late 1970s saw the Royal Canadian Navy in sore need of new fighter and strike aircraft for its 5 light strike carriers. It was decided at the time to buy aircraft from the USA but that Canada would develop its own aircraft for the end of the 1980s. De Havilland were approached by the Admiralty and asked to put forward proposals for a light aircraft capable of being used as a trainer, strike aircraft and fighter all with a common airframe.
De Havilland already had a proposal for a trainer to hand, and so they decided to modify this to meet the new requirement. By 1982 the aircraft was in the air on trials and after successful trials the new aircraft named the Swashbuckler was accepted for service in 1989.
Both aircraft modelled here are from the air group of HMCS New Brunswick before her sinking by US aircraft in the 1991 disaster, and both had taken part in the attack and destruction of Boston.
The Swashbuckler had been accepted for service with the Royal Navy and the RAN with their light carriers but no deliveries had happened by 1991.