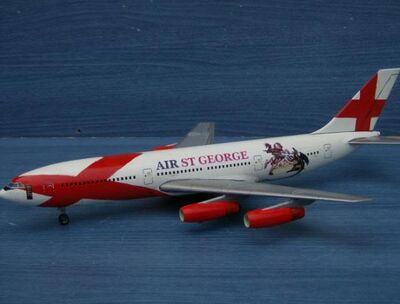 AIR St GEORGEEdit
Air St George was formed in 1982 as a means of getting many of the football fans to the World cup in Spain, a great successs the airline was not wound down as originally intended but was formed into a charter airline specialising in moving England fans to matches.
It flew supporters to Football matches, Rugby matches, Cricket tours and even in a moment of madness the entire team and supporters to the world Scrabble championship, it was the real poeples airline.
Operating a wide and diverse base of hired and leased aircraft the fleet has at times included Beoing 727s, 737's Airbuses of various denominations as well as Tu154's and Il86's all resplendant in the cross of St George livery with various pictures of the saint slaying the Dragon.
the aircraft below was hired through the english Cricket board to help fly the ever incrasing numbers of the " Barmy Army " out to Australia for the Ashes tour of 1990 ( sadly lost ) as many of the more traditional airlines were at this time reluctant to fly planes full of English fans due to their reputation for exsessive drinking.